Here are some photos of the two XTend Adapter Boards-with and without Accessories-(p/n: XTAB and XTAB-A). The XTABs create an XStream footprint for the XTend OEM module. Following are some explanations of the part numbers.
Note: Digi no longer sells these adapter boards.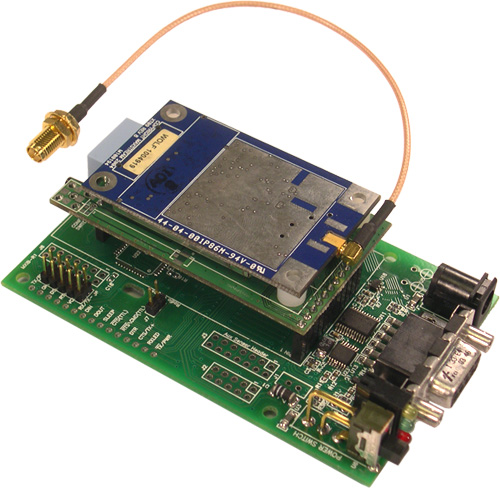 ۱ – XTAB installed on XIB-R with JM2R6-CR3-7I antenna cable
| | |
| --- | --- |
| ۲ – Top of XTAB (back) and XTAB-A (front) | ۳ – Bottom of XTAB (left) and XTAB-A (right) |
| ۴ – XTAB-A installed on XIB-R | ۵ – Expanded view of XTAB-A installed on XIB-R |
The XTAB has no RF connector. This board is generally used when the XTend XT09-MI module will be used with an antenna or RF cable with an MMCX RF connector.
If an RPSMA connector is required we offer a 7″ MMCX to RPSMA-female RF cable (p/n: JM2R6-CR3-7I). The MMCX connector can be plugged into the XTend module, and the bulk-head RPSMA-female connector (just like on the XStream OEM module) can mount at any location on the enclosure.
The XTAB-A comes with an RPSMA-female RF connector in the same place as on the XStream OEM module, plus an MMCX to MMCX RF connector cable to connect the XT09-MI to the XTAB-A. This can be used to make an XT09-MI module look just like an XStream OEM module (plus an additional < 0.100″ height), complete with RPSMA-female antenna connector in the same place.
Warning: The above photographs show the XTend module plugging into the XStream Interface Board (XIB-R). This is only functional if the transmit power of the XTend module is turned down to 100mW (ATPL=2). The XIB-R's voltage regulator is limited to only 250mA source current, so it cannot support the XTend module at higher transmit power levels.
Note: Usage of XTAB and XTAB-A boards should not be considered a permanent solution. We are unsure how long they will be offered. Use them as a temporary solution while redesigning a PCB, prototyping with XTend modems, or testing.
Please do not hesitate to contact Technical Services with any questions you may have on these products.